Content for our fellow researchers
'A New Pottery Type: Ladds Stamped'
Recovered from the Swift Creek midden at 9Br663 at a minority frequency, these sherds display a decorative style unknown to researchers prior to this investigation. Generally, this style consists of raised lines overlying a background of fine parallel horizontal lines. Because the raised lines often appear to have been smoothed, the decorations are generally not well defined. Because this pottery type had never been previously identified, we decided to name it Ladds Stamped, after the mountain so important in the history of the Leake site.
We have found two varieties of this type, defined on the basis of the raised decorations. One variety, referred to as diamond check, exhibits the raised lines in a diamond pattern, which gives the impression of a check stamped design (see the examples below from TU 7 and TU 20) . For the most part however, as seen on the sherds from Test Unit 24, the raised line is very indistinct with no clearly definable pattern. Occasionally, the indistinct variety appears to have been configured as a rounded 'V' that may or may not connect to another 'V'. While many of us spent hours trying to determine how the background parallel lines were created, a colleague (Chris Espenshade) floated the idea of these lines having been made using fossilized crinoids (see below). Numerous crinoids were found in the Swift Creek deposits at Leake, and their parallel ridge morphology matches the background lines found on Ladds Stamped pottery. Experimental pottery replication using crinoids will be necessary to test this compelling theory.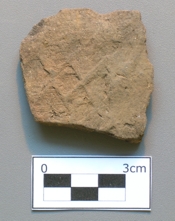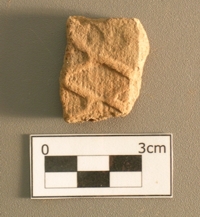 Tu7, L 2 Tu20, L 1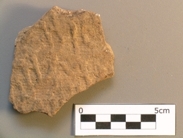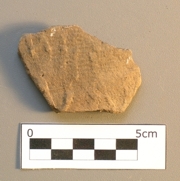 Tu24, L 1 Tu24, L 2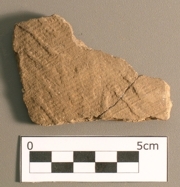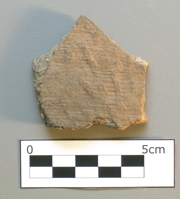 Tu62, L 2 Tu79, L 2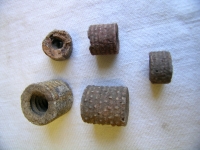 Crinoid fossils
Click on each image for a closer look.
The paste and morphology of Ladds Stamped pottery are similar to Swift Creek wares, with scalloped rims being the most common rim type identified. These similarities, along with the fact that this ware has not been recognized at any other site, lead us to believe that Ladds Stamped pottery was only produced at Leake.
Examples of a somewhat similar decorative style have been found at a handful of Hopewellian sites in the Southeast (Miner's Creek, Mandeville, and 9HY98 in GA; Yearwood in TN; Biltmore Mound in NC), the Mann site in Indiana (see this page for examples), and Ohio (Turner, Seip, Harness, and Rockhold). In Georgia, David Chase termed this type Panola Check Stamped, while the Ohio examples were classified by Olaf Prufer as Untyped Diamond Check Stamped of the Southeastern Series. Some specimens of this diamond check stamped ware have a raised dot in the center of each check. Several sherds of this enigmatic ware were found at Leake.
If you have observed this pottery type elsewhere, please email one of our Principal Investigators, Scot Keith.